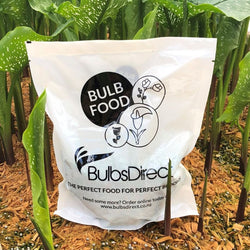 Garden Essentials
Bulb Food - Fertilizer 1kg or 2kg
The Perfect food for the perfect blooms...
Our Bloomin' good Bulb Fertilizer has been specifically formulated for NZ soils to give your Bulbs the jump start they require. Bulbs are heavy feeders, and this mix will keep them blooming perfectly for years to come.
Don't plan on lifting your Bulbs every season? No worries! Our special mix has been designed to take into account the changes in soil composition over several years of growth.
NPK 10-4-14 + Magnesium, Calcium and Trace Elements.
We recommend 250grams per metre of planting. 
We've answered some of the common questions about buying our bulbs and the payment/delivery process.  We want you to buy with confidence, so if your question is not answered in our FAQ please don't hesitate to ask!