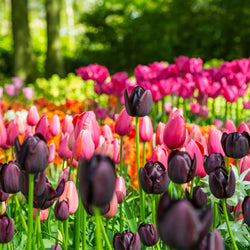 A Years Supply of Bulbs
The Perfect Gift
Soldout
Ever wanted a years supply of absolute beauty? you've come to the right place!
You (or your lucky gift recipient!) will receive between 4 and 5 Bulb deliveries throughout the year (Spring Bulbs, Lilies, Summer Bulbs, and Hippeastrum)
Each pack is a random collection of our most popular varieties - sure to impress.
We tailor these packs to the region you or the gift receiver is in.
If you're wanting a physical voucher to gift to the recipient, just flick us an email to let us know... we'll pop one in the post.
Note, the first shipment will be Spring Bulbs, to be dispatched around June (dispatch dates tend to change each year, as it depends on the season we're having... rest assured the deliveries are timed to arrive at the perfect period to be planting)
We've answered some of the common questions about buying our bulbs and the payment/delivery process.  We want you to buy with confidence, so if your question is not answered in our FAQ please don't hesitate to ask!