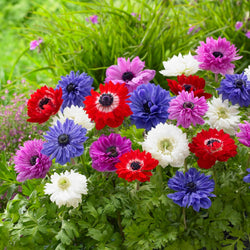 Anemone
St Brigid Mixed
*Available January through to April*
A stunning array of colour. Anemone's are great value, and incredibly easy to grow. With very little effort, they can reward you with up to 6 months flowering time by stagger planting. For best results, they should be chilled for 5-6 weeks prior to planting (we've already done this for you!), then soaked in fresh running water for 10-12 hours. Try to avoid high temperatures, as Anemone's like the soil to be 12-15 degrees for optimum germination. Anemones provide blooms 6-8cm across in a stunning display of reds, rose, lavender, blue, white, and much more, from early Winter to late Spring- they are highly valued as a cut flower. Anemones can be planted from January, providing the ground temperatures are reasonably cool. Plant in groups 3-4cm deep, 6-8cm apart in a sunny well drained position.
Anemones (also known as Windflowers) are one of the best-bang-for-your-buck varieties. One of the easiest ways to add colour and beauty to your Spring garden. Simple to grow, and incredibly floriferous.
These tiny little Rhizomes pack a real punch! Anemones are fantastic planted in mass, and make a great cut flower. To prolong your display, they can be stagger planted.
For a full overview of how to plant Anemones visit our Gardeners Guide.