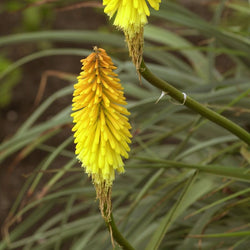 Kniphofia
Echo Mango
*Available August through to December*
Bare rooted Perennials - Echo Mango Kniphofia (also known as Red Hot Pokers)
This lovely variety was bred to repeat bloom. Plants form a mound of grassy, evergreen leaves with striking, tall stems bearing spikes of bottlebrush blooms in a warm shade of apricot yellow. Great for the cutting garden.
Drought tolerant, once established
They prefer full sun with moist, well drained soil.