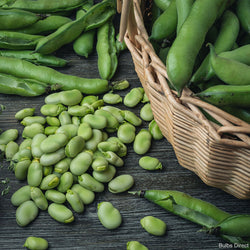 Broad Bean Seeds
Evergreen - 250grams
Evergreen has smaller beans than other cultivars. The beans remain bright green when cooked and have a mild flavour.
Growing to approximately 90cm tall.

Maturity:
Approx 75- 90 days
Broad Beans like a rich, well dug soil but most soils will give a decent crop. Broad Beans provide a great source of vitamin C, folate and fibre and are perfect for freezing!
Sold in bags of 250 grams.
We've answered some of the common questions about buying our bulbs and the payment/delivery process.  We want you to buy with confidence, so if your question is not answered in our FAQ please don't hesitate to ask!