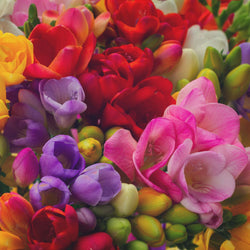 Freesia
Freesia Super dooper Mixed
*Available January through to April*
30-50cm

Full Sun
A stunning selection of single and double flowering varieties.
This outstanding strain of Giant flowering Freesias produce HUGE, heavenly scented blooms in a stunning array of colours – 30cm to 50cm high.
Freesia Bulbs are easy to grow, and thrive in sunny, well drained positions, but need protection from frosts.
Plant your Freesia bulbs in well worked soil, 5-6cm deep and 8-10cm apart. To keep clumps together, why not use one of our bulb protection baskets and place it just below the surface of the soil.
For a full overview of how to plant Freesias visit our Gardeners Guide.