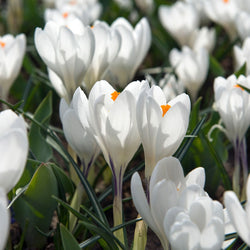 Giant Crocus
Jean D'Arc
*Available January through to April*
12-15cm

8-10cm

Part Shade
Jean Darc Crocuses are a stunning pure white variety. A true masterpiece that will look stunning planted in clusters.
Giant Crocus's grow around 2-4cm higher than their cousins - the Specie Crocus.
Both the Specie and Giant Crocus's are ideal for borders, and underplanting around your trees. To make the most out of your Crocus, make sure you plant them in clumps.
We promise you'll love them!
Crocuses flower to perfection in cold Winter districts, but are incredibly hardy, and do well across the country. They do well in shady, and damp areas of the garden.
Their dainty wee blooms are the first herald of Spring.
The smaller of the Crocuses (the Specie Crocus) flower around 7-9cm in height, whilst their slightly larger cousin, the Giant Crocus, flower up to 14cm.
For a full overview of how to plant Crocus visit our Gardeners Guide.