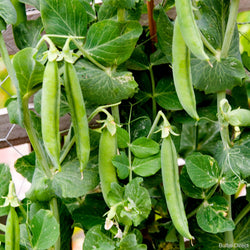 Dwarf Pea
Greenfeast - 250grams
80-90cm

3-5cm
Greenfeast Peas are a great addition to the vege garden. Nothing beats fresh homegrown peas... mmmmmmm! (I'm salivating just writing this)
Greenfeast is a dwarf variety, growing to around 90cm in height- it's a prolific bearer of plump juicy shelling peas.
Main crop. Uniform and very sweet tasting pea with curved pods. 
Maturity:
Approx 65-85 days.
Sold in bags of 250 grams.
We've answered some of the common questions about buying our bulbs and the payment/delivery process.  We want you to buy with confidence, so if your question is not answered in our FAQ please don't hesitate to ask!