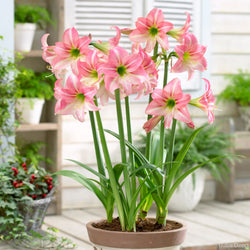 Sonatini Amaryllis
Lollypop
*Available August through to December*
30-50cm

Full Sun to Part Shade
Sonatini are bred for their elegance, hardiness, and their ability to produce a stunning display of blooms.
Amaryllis Sonatini, also known as the Hippeastrum, are a hardy outdoor Amaryllis that will produce at least two stems per bulb.
They are fantastic in pots, or directly into the garden. Sonatini Hippeastrums were developed by Dutch breeders using hardy species of the same family. They are more compact than traditional Hippeastrums, growing 30-40cm high and 10-15cm across, but have just as much, if not more flower power.