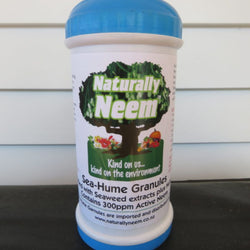 Insecticide
Natural soil Insecticide/fungicide - Sea-Hume Granules 1kg
Why Bentonite Clay?..
.
A light application of the clay powder will do wonders for the blooms, mix into the topsoil with compost during the offseason to prepare the bed for spring planting. Bentonite clay provides 60-70 trace minerals. Enzymes from the plants break down the minerals for root absorption.
Application:
Add the Sea-Hume granules to soil, Potting Mix, or any rooting medium prior to planting.
Recommended Rates:
25grams per potted plant
50-200grams per tree
50-80grams per m2 for broadcast

 
We've answered some of the common questions about buying our bulbs and the payment/delivery process.  We want you to buy with confidence, so if your question is not answered in our FAQ please don't hesitate to ask!