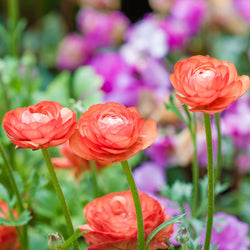 Ranunculus
Ranunculus - Salmon
*Available January through to April*
Ranunculus are among the showiest of bulbs - blooming for weeks, and providing a beautiful display of 4-6cm blooms in reds, rose, golds, lemon, yellow, white etc, on strong, 30-50cm stems.
 Ranunculus (also known as Persian buttercup) are showy, value-for-money, and incredibly easy to grow - their prolonged flowering period makes them a perfect addition to your garden or balcony.
Prior to planting, we recommend chilling your Ranunculus corms in the paper bag they arrived in, for around 3-5 weeks. This will give them a good kick start.
Ranunculus are best planted in full Sun, or a semi shaded position, and are well suited for pots. Semi shade will help to lengthen their stems.
For a full overview of how to plant Daffodils visit our Gardeners Guide.