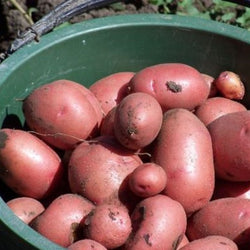 Seed Potatoes
Red King Edward (Main Crop)
*Available May through to July*
*Available August through to December*
Maturity:
  Approximately 100 - 120 days from planting
Yield:
  Moderate to High
Tuber description:
 Moderate sized short oval potato with red skin and white flesh. Stores well.
Eating quality's:
  A good alrounder with excellent taste when boiled. Can also be used for most other types of cooking however the taste is not as good after frying.
Certified, NZ Grown Seed Potatoes... nothing beats them!
Preparing your seed potatoes
You should aim to have brought your preferred seed potatoes up to 6 weeks before planting... this is to allow them to begin to sprout (called chitting)
Always use certified, virus free seed potatoes to ensure you get great results.
It's important not to plant out your Seed Potatoes until after the risk of frosts have ended (alternatively if you're super eager, the use of Frost cloth can do the trick )
Store your seed Potatoes in a nice dry area until they produce shoots between 2 – 4 cm long (storing in an egg container is our wee hack!)
For a full overview of how to plant Potatoes visit our Gardeners Guide.