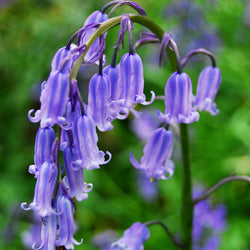 Scilla
English Bluebells
*Available January through to April*
20-30cm

Part Shade
Limited numbers available - Maximum of 10 per person, sorry! if you order over 10, we'll have to cancel and refund the additional bulbs ordered :-(
Often known as English "Blue Bells" or "Hyacinthoides non-scripta bluebell". These bulbs are very well known for naturalising in almost any condition producing 20-30cm stems bearing numerous pedulant lovely mid blue bell in mid Sring.
A splendid display of Blue spikes above slender green leaves, they look best planted in bold clumps and under taller trees. These bulbs require very little care and will continue to reproduce and flower for years to come.
Scilla, also known as Bluebells, are the ideal Bulb for Naturalizing - they are hardy wee things, that enjoy part shade. Perfect for undertree plantings.
Not that long ago these bulbs were known mostly as Scilla…. The name has moved on a bit, but shrubs and summer-flowering perennials will still be brightened up by planting these lovely bulbs in among them. And the big benefit is their ability to multiply every year.
There are two types of Bluebells - English Bluebells, and the more common variety found in New Zealand, the Spanish Bluebells. Spanish Bluebells grow much easier in our climate, hence why you'll see a lot more of these than the English version.
For a full overview of how to plant Scillas visit our Gardeners Guide.