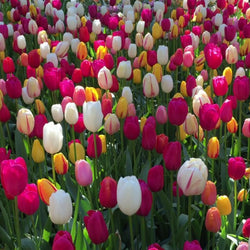 Tulip
Tulip Bulk Collection
*Available January through to April*
30-50cm

Full Sun
A lovely collection of different varieties - all packaged and labeled separately.
5 Bulbs per variety.
50 Bulbs (10 colours), 100 Bulbs (20 colours) or 150 Bulbs (30 colours)
Tulips love colder climates, but also do incredibly well in warmer climates (even as far North as the Cape!)  - if you don't have a cold climate like ourselves, we recommend chilling your Tulip Bulbs for 6 to 8 weeks prior to planting. This will trick them into thinking they are having their Winter period, and prolong their stems and Flowering period.
For a full overview of how to plant Tulips visit our Gardeners Guide.