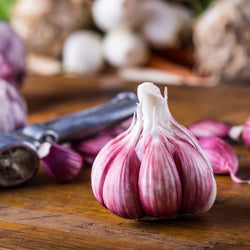 Garlic
Turban
*Available May through to July*
Unfortunately we have limited stock - MAXIMUM OF 2 BULBS PER PERSON. Sorry!
Turban Garlic is a beautiful hardneck variety.
Hot when raw, milder cooked with pleasant flavour and aroma.
Turban Garlic Bulbs have 4 to 7 large cloves in a single circle around the central stem. 
The colours of this variety have always fascinated me - it can vary from season to season....almost pure white to intense purple. 
Garlic is one of the easiest crops to grow...  it will thrive, and give you plenty of delicious meals if given the basics - food, water and plenty of sun. 
Garlic is packed full of goodness, both health properties and intense flavour! what more could you ask for?
The best time to be planting Garlic cloves is mid May through to late July.
Garlic are hungry wee things, so preparing your soil is very important - dig in some sheep pellets, well rotted compost, and other goodies such as general purpose fertilizer and Lime, well before planting. You want your soil smelling nice and earthy.
For a full overview of how to plant Garlic visit our
Gardeners Guide
.