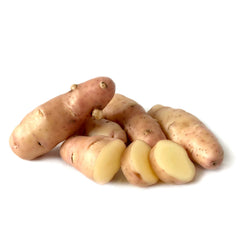 Seed Potatoes
Pink Fir Apple
*Available May through to July*
*Available August through to December*
Pink Fir Apple is ideal for boiling, roasting in jackets and salads with a firm flesh and delicious nutty flavour. Matures approximately 110-130 days making it a Main Harvest.
Maturity Approx 110-130 days
Skin
Pink Blush over Cream
Nearly everyone loves a great spud and why not?....... high in fiber, rich in vitamin B and C, packed with more protein and iron than any other vegetable, potatoes are a key ingredient to nearly everyone's diet, they are a mountain of fun to grow and it just got easier.
Certified, NZ Grown Seed Potatoes... nothing beats them!
Preparing your seed potatoes
You should aim to have brought your preferred seed potatoes up to 6 weeks before planting... this is to allow them to begin to sprout (called chitting)
Always use certified, virus free seed potatoes to ensure you get great results.
It's important not to plant out your Seed Potatoes until after the risk of frosts have ended (alternatively if you're super eager, the use of Frost cloth can do the trick )
Store your seed Potatoes in a nice dry area until they produce shoots between 2 – 4 cm long (storing in an egg container is our wee hack!)
For a full overview of how to plant Potatoes visit our Gardeners Guide.