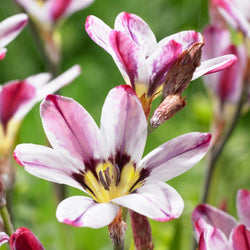 Sparaxis
Moonlight
*Available January through to April*
20-30cm

Full Sun
These lovely Spring flowering bulbs produce a wonderful display each Spring in a superb display of softer tones. Easily grown anywhere, they the prefer a sunny well drained position. They are best planted 4 - 5 cm deep, 4 - 5 cm apart in bold clumps or as ribbon borders.
Sparaxis make a stunningly beautiful addition to the garden or patio - their striking colour combinations, strong stems, and swordlike foliage make them a must have.
We recommend planting in groups of 10 or more, to give the most impact.
Native to South Africa, where they are found growing in their thousands around the South Western Cape regions.
Sparaxis enjoy full Sun, and will tolerate dry conditions.
Great in pots or straight into the garden.
For a full overview of how to plant Sparaxis visit our Gardeners Guide.